Social Media - Flickr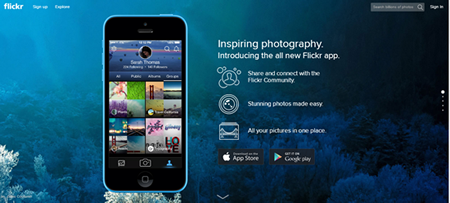 Flickr (pronounced "flicker") is an image hosting and video hosting website, and web services suite that was created by Ludicorp in 2004 and acquired by Yahoo in 2005.
In addition to being a popular website for users to share and embed personal photographs, and an effective an online community, the service is widely used by photo researchers and by bloggers to host images that they embed in blogs and social media. Upon finding an interesting image the searcher can then seek out the original source of the image - your website.
This resource can be valuable for displaying visual assets. It may be that your business involves photography or film footage, either directly or indirectly. Flickr may well be a resource that can be used to showcase promotional material and widen your contact circle.
For mobile users, Flickr has official mobile apps for iOS, Android, PlayStation Vita, and Windows Phone operating systems, and an optimised mobile website.
Flickr offers three types of accounts:
Free - one terabyte of storage limited to 200 MB per photo and 1 GB per video. Adverts are featured on your page.

Ad Free - allows subscribers to avoid advertisements for an annual fee.

Doublr - has twice the storage of a free account.
Flickr may delete accounts without giving any reason or warning to the account's owner.