Social Media: Foursquare

Foursquare is a social media facility that helps people meet up with friends, and discover great places in their current locality.
Foursquare provides apps that can be used by people who want to know about the best places to visit, and to share places and facilities that they've discovered with others. Users recommend venues for entertainment, sporting events, education, health facilities, eating out, etc. and their comments and recommendations are used by others to make choices in a locality.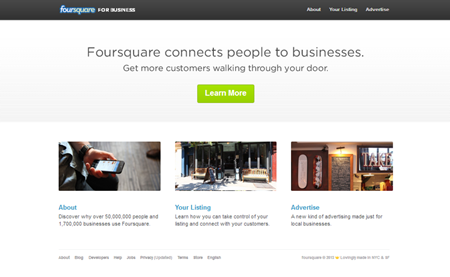 It is probable that your business is already listed on Foursquare. Customers or clients may well have recommended your services. By enroling on the business section of the site you take charge of your page and can use it to promote your business further. The site cannot be used to advertise per se, but it can be used to promote your business presence in an area.